The Gift of the Holy Spirit
Sunday, April 19 2009 at 10:32 PM
Faith
Have you ever agreed to participate in an event, a class, or a dinner party and not known why you did so in the first place? And as the time for this particular function drew closer and closer, did you question your decision to attend more and more? If you've done this before, you can rest assured in knowing that you're not the only one who has!
A month ago I signed up to attend a men's retreat (Catalyst) hosted by The Church of the Highlands, a non-denominational church located here in Birmingham. The day after I registered I began questioning why I had done so. My thinking was that after all the epiphanies I've been fortunate enough to have in the past couple of years, there couldn't be many more left for me to have.
But I'll tell you, I've learned not to question when God steers me in a certain direction or down a certain path. I figured that God planted the idea in my head for me to go to this thing, and that's exactly what I was gonna do!
My friend Steve McGee and I rode together, and on the way there, I told him that I was going with no specific expectations for the weekend. That way, if I didn't have any "aha" moments, I wouldn't come away disappointed.
I wasn't.
I came away from that retreat with several memorable moments, and today I want to share my thoughts about one of them with you.
There were four different "sessions" held during the course of the weekend. It's the third one, on Saturday night, that I want to tell you about today.
Saturday night's speaker was Layne Schranz, the Director of Student Ministries at Highlands. Layne talked about completeness in life, serving God's church, and the Holy Spirit.
I'm not sure in which order I want to proceed from this point on. I think that I'll   talk about the past to "set the table" for telling you about the present.
When I was the fourth grade I received the Sacrament of Confirmation in the Catholic Church; that is to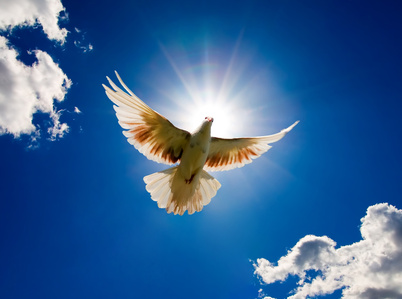 say, I received the gift of The Holy Spirit. In preparing to be Confirmed, we studied the Holy Spirit….what He was, who He was, and how His presence would make us stronger Catholics ( if I'm off the mark this one a bit, you'll have to forgive me….it's only been 48 years since I was confirmed!).
The day came, and it was a huge event at the church, and I was confirmed. I remember thinking "I don't feel any different. I certainly don't feel stronger, or braver, and I certainly don't feel the Holy Spirit in me. Maybe I missed something." I scanned the faces of my classmates to see if any of them looked any different. They all looked the same as before and of course I was too embarrassed to actually ask if they felt different! And that's how I received the Holy Spirit 48 years ago.
Through my adolescent, teen, and adult years I never forgot about the Holy Spirit. The Sign of the Cross is used frequently in the Catholic Church to open and close prayers. The verbiage used in making The Sign of the Cross is In the name of the Father, and of the Son, and of the Holy Spirit, Amen. So for me there was always an awareness of the Holy Spirit by name, if nothing else.
When I began this spiritual walk a few years ago, I became more aware of the Holy Spirit. Actually, the awareness came from other people. In 2007 I began making presentations for REDKEN (the hair care company), and at some point in each one I would make a reference to my faith, giving God the credit for our success. After each of those presentations at least one person would inform me that the Holy Spirit was definitely working in and through me, giving me the courage and boldness to openly profess my faith. Since I didn't know what the Holy Spirit felt like, I could only agree with them.
As my faith got stronger, as my feelings for God became deeper, as my relationship with Christ began evolving, life became more of a challenge. Let me rephrase that: living my life the way I wanted to, walking the walk of a true Christian, became a challenge. It was a challenge because the devil would do everything he could to thwart my efforts, and I was determined not to let him.
Each morning during meditation and prayer I began asking to receive the wisdom of the Father, the compassion of the Son, and the strength of the Holy Spirit. And I continued to move forward on my path, always pushing, never letting up. Along the way, God's presence within me grew stronger and stronger, as did my willingness to share my faith with others..
The Call
Near the end of the Saturday night session Layne extended an invitation to take part in a Baptism of The Holy Spirit. Still plagued by my childhood inhibitions at 56, I was too embarrassed to ask just what that meant! I assumed that it was something akin to my Confirmation, so at first I was gonna decline the invitation. But then I recalled the fact that when I was confirmed in the fourth grade, I really didn't understand what it meant. And it wasn't a voluntary act….I was told that I was going to be confirmed. Period. And I was.
"This time" I thought, "I'm going to make a conscious decision to receive the Holy Spirit. I'm going to welcome Him into my heart and ask Him to give me strength, comfort, and peace of mind."
Standing among the other men that had opted to participate, I asked to receive the Holy Spirit with such fervor that today I can recall neither Layne's words nor any of my own during those few minutes. And then it was over. I stood there, with my eyes closed, taking an inventory of my feelings. I didn't feel any stronger, braver, or wiser. But I did feel more at peace.  
As the session came to an end, Layne offered his assurances that every participant in that room would indeed feel the presence of the Holy Spirit. It may not be at that moment, or that week, or even that month, but at some point, each of our lives would be impacted by that night.
Since the retreat…..
It's been three weeks since Catalyst, since I received the Holy Spirit. I have to tell you, there have been a lot of changes in my life in those three short weeks. These changes have been internal, not anything visible to the naked eye. I don't know exactly how to describe these changes…..
The fire of spiritual passion that drives me to know more about God and to "walk the walk" burns hotter than ever, yet it doesn't consume me. Determination is tempered by patience. Wisdom is guided by insight. I believe, without any doubt, that I am following the path that God laid out for me. There is just a knowing….
I told you a month or so ago that I considered myself blessed that my life is so "comfortable". That comfort isn't a result of my life being that easy; I'm a husband, father, grandfather, son, mentor, and co-owner of a business with 14 employees trusting me with their careers. That comfort is the result of the Trinity…. the Father, the Son, and the Holy Spirit, in and around me.
We all need Him.
I was thinking this morning, that with the world being the way it is, we could all use the comfort of the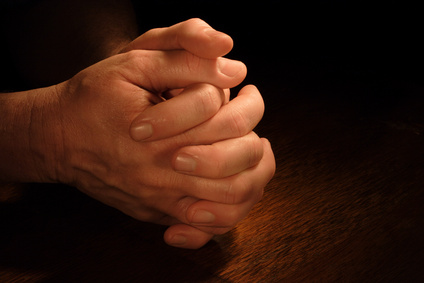 Holy Spirit. So many of us are troubled by financial burdens, job layoffs, mental stress, doubt, and raising our children, just to name a few. I can't recall a time when so many things were wrong all at once.
The next time that you are in prayer, why don't you ask to be filled by the Holy Spirit? You don't have to recite a certain prayer. In your own words, ask Him with all that is in you to be filled with His strength, comfort, and peace. I urge that you ask to receive the gift of His spirit each time you are in prayer. You will be amazed at what He will give you in return!
Contact me: sam@theseedofhope.com