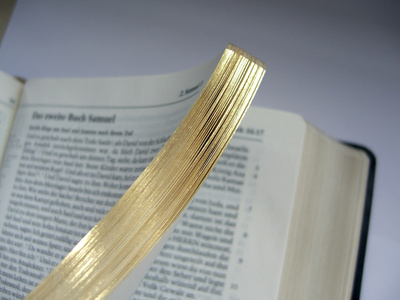 Before I pick up where we left off last week there is something that I must make mention of….
I was amazed, after the fact, when I realized that in last week's post I had actually quoted Scripture! That may not seem like a big deal to you, but believe me, for Jackie and those that have known me for some time it was monumental.
I want to tell you a little story…..
Perhaps you can relate to this: one of the reasons that I shied away from the Bible was the Thee, Thy, Thou, begat, etc. found in many versions. I mean, come on, just getting the message out of a passage was a challenge for me; trying to get through archaic wording made it even worse! I needed something a little more simple, something that I could relate too, something that would make it a bit easier to get past my still-present childhood fears that I couldn't understand what I'd read.
I turned to our nephew Jamie for advice, and told him of my 'hang-ups' with conventional Bibles. Jamie recommended the NIV (New International Version) Bible, which has been translated into a version much easier to both read and comprehend.
Brimming with confidence, I headed to the bookstore to actually purchase a Bible! One look at the shelf containing all the Bibles, and the panic set in! I had expected to find a few different translations, but I wasn't prepared for what I found; there were more versions of the Bible than, well, than I have pairs of socks!  There were study Bibles, reference Bibles, and one year Bibles. I saw Bibles for men, women, and even students. Good grief!
Just before I turned and bolted for the door I remembered that I was looking for one particular version, so there should be nothing to be worried about, right? So I scanned the shelves looking for the NIV. There it was. But wait! There are different versions of the NIV! Which one was the right one? Making sure that no one was looking, but not really knowing if someone was, I began leafing through the different versions, acting as if I knew what I was doing! I could have asked for help, but that would have been too easy (maybe it's a guy thing), so I stood there for 5 or 10 minutes with no clue as to which one I should choose! 
Finally, aware of the fact that I could have stood there all day trying to make a decision, I put it in God's hands. I closed my eyes and thought "Dear Lord, I have no idea as to which of these Bibles is best for me. I'm gonna stand right in front of these selected few, and I'm asking You to guide my hand to the one that I'm supposed to have." And I did. And He did. And I went home with the GIANT print version of the NIV Bible.
I made one more purchase at the book store that day; for several months I questioned why I bought it, but I realize now that it was God's way of making reading the Bible more fulfilling for me. It was a publication titled The One Year at HIS feet Devotional, and it gives the reader a suggested reading for each day of the year. This particular study guide cites chapters and verses from the New Testament, focusing mainly on the Gospels of Matthew, Mark, Luke, and John.
As I said, there is a suggested reading for each day of the year. Here's what I really like about it: There are two sections devoted to each day's passage. The first section, In Word, explains what I've just read, in layman's terms. The second section, In Deed, gives me suggestions for applying that day's 'message' in my life. This book has proven to be an invaluable tool in making daily reading of the Bible a part of my life. In fact, each morning Jackie and I sit at the table in our kitchen where I'll do the 'reading of the day' for both of us. You can keep your bacon and eggs, cereal, or bagels; give me a few minutes with my Bible and a hot cup of coffee and I'm good to go!
I'll close today with a few thoughts:
If you're looking to enrich your walk of faith, to deepen your spiritual life, to get closer to God, or to learn the teachings of Christ, then the Bible is a great place to look. Unlike myself, don't let fear stand between yourself and what the Bible has to offer to you.
If you want to know more about the Bible, join a study group within your church community. Talk to a friend that's well-versed in the Bible. If you want to go it alone, but don't know where to start, pick up a daily devotional similar to at HIS feet.
I'd love to recommend a particular Bible to you, but I don't think that I'm qualified to do so. I believe that there are so many different versions available because, well, because we're all different, aren't we? Seek some advice in finding the version that's best for you; the pastor of your church can probably offer you some tips.
It is my humble opinion that you don't have to know the Bible to know God, to be a Christian, to lead a good life, or to get to heaven. I know I've mentioned somewhere on this site that "…it's not just about the destination; it's about the journey." I believe reading the Bible will only serve to make your journey better.
contact me: sam@theseedofhope.com